Bible trivia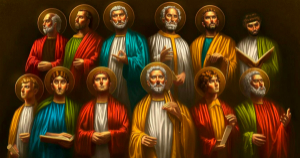 Religious Studies
Q. How many days did God take to create the world?
Q. The Bible is the most popular book ever written.
Q. Who was the first peron of earth?
Q. Who are the twelve disciples of Jesus ?
Q. How many brothers did Joseph have?
Q. Through what did God speak to Moses in the desert?
Q. What did Moses say God commanded the Pharaoh to do?
Q. Where did God give Moses the Ten Commandments?
Q. Who was the first king of Israel?
OPEN